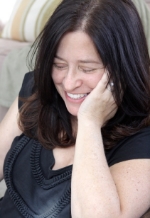 The Karpovsky Variations
Julia has lost a song. She knew part of it once, when she was little, before her father and his brothers starting jetting all over the world, running from their southern jewish roots. Will Dad make that clarinet laugh one more time?
Featuring Margot Leverett of the Klezmer Mountain Boys on clarinet!
Adam Kraar's (Playwright) plays include Wild Terrain (EST Marathon of One-Act Plays), Empire of the Trees (NY Innovative Theatre Awards nominee, Outstanding New Script), Freedom High (Queens Theatre in the Park), New World Rhapsody (Manhattan Theatre Club commission), and The Spirit House (premiered at Performance Network of Ann Arbor).
His work has been produced and/or developed by Primary Stages, N.Y. Stage & Film, Public Theatre, The New Group and many others. His plays appear in five Best American Short Plays anthologies and his awards include the Sewanee Writers' Conference Fellowship, Inge Center Residency and Manhattan Theatre Club Fellowship. Core Member, The Playwrights' Center.
Tamilla Woodard (Director) is a director, actor and adapter residing in New York City. Graduate of the Yale School of Drama, an alumnus of The Lincoln Center Directors Lab, and a founding member of The Internationalists. Most recently she directed Nightlands by Sylvan Oswald and co-directed the US premier of Hotel Project, NYC/NJ. With the Internationalists she has directed Alfonso Cárcamo's Decomposition at The Lark and for The City Parks Theatre Festival Summerstage and devised OH De Sea! a riff on Homer's "Odyssey". Other recent work: the development/direction of Saviana Stanescu's Polanski Polanski (starring Grant Neale) and Overcoming Speechlessness, based on the text by Alice Walker with adapter Dana Balicki. Tamilla has participated in the Lark's US/Mexico Exchange with The Lark as both actor and director. She has directed at HERE, The Actors Theatre of Louisville, PS122, DR 2, The Culture Project, Urban Stages, Dance Theatre Workshop, The Kitchen Theatre, Manhattan Class Company and for festivals around the US and internationally. New Dramatists honored her with The Charles Bowden Award and The League of Professional Theatre Women with the Josephine Abady Award. She also serves as an adjunct professor teaching solo performance at City College's Center for Worker Education.